Solar Water Heating in Summit & Vail Valley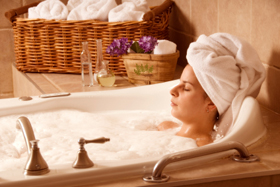 Hot water is the second largest consumer of energy in American households! A typical 80Gal Electric water heater serving a family of four will consume approximately 150 MILLION BTU's in its seven year lifetime. This will cost approximately $3,600 (at 0.08¢ per KWH), not accounting for fuel cost increases. Then it will typically be replaced with another one just like it.  However, an investment in solar water heating in Vail Valley is not only a more efficient way of heating, it is also more cost effective.
Fortunately the Federal Government and State of Colorado are embracing the future by offering tax credits and rebate incentives to sweeten those numbers even more. What are you waiting for? Your investment into your home should be enhanced by an investment into solar water heating in Vail Valley. If you would like more information on how solar water heaters can save you and your family money while providing efficient hot water, contact our Summit County plumber today!

Our Summit & Vail Valley Solar Water Heating Services:
Solar Water Heating
Solar Water Heaters
Solar Panels
Solar Heating

Water Heaters
Solar Energy
Hot Water Heaters
Energy Efficient

Energy Efficiency
Solar Energy Heaters
Water Heater Installation
Plumbing Installations
We Provide Solar Water Heating to the Following Towns in Colorado
Blue River, CO (80424) | Breckenridge, CO (80424) | Copper Mountain, CO (80443) | Dillon, CO (80435) | Summit, CO (80443) | Heeney, CO (80459) | Keystone, CO (80435) | Montezuma, CO (80435) | Silverthorne, CO (80498) | Avon, CO (81620)
Recent Articles About Solar Water Heating
If you are looking for Solar Water Heating in the Summit / Vail Valley area then please call 970-668-8800 [Summit] | 970-479-1212 [Vail Valley] or complete our online request form.