Heeney Plumber: THe Best Company For Your Needs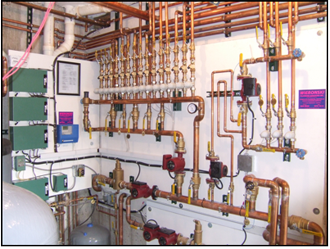 We take special pride in the plumbers and heating contractors that we employ and train. In fact you'll notice the difference immediately in the attitude and integrity they bring to your job site. Our Heeney plumber works hard to make your experience with us hassle-free and enjoyable. Should we make a mistake, we will do everything in our power to correct it to your satisfaction.
Here at Wieronski Plumbing & Heating, Inc., our experts provide honest and personalized service. We make it a point to go over the details of the proposed repair or installation. You are told exactly what to expect upfront. We back our service with our guarantees.
Wieronski Plumbing & Heating, Inc. - Heeney Heating Repairs
Wieronski Plumbing & Heating Inc. is dedicated to delivering you the best. We take our customers needs very seriously. You can count on our Heeney plumber and heating contractor for upfront pricing on all Heeny heating repairs so that you can make an informed decision based on the pricing and options provided to you. For most jobs we charge by the job not by the hour. We'll come to your home or business and give you a written evaluation of the problem and the price so you can approve any work before we begin.
Heeney Plumbing Company
Wieronski Plumbing & Heating Inc. is a customer-focused company that was founded in 1982. We are located in Summit, Colorado and employ highly trained people whose goal is to make our company the best service company in the area. We are fully licensed, and insured, making us the perfect choice for fast, professional service. Our Heeney plumber company always perform Heeney heating repairs, replacements or installations to the highest standards. You won't see any used material or inferior products installed in our plumbing or heating systems.
Heeney Plumber
Heeney Heating Repairs
Heeney Heating Contractor
Heeney Plumbing Company

Heeney Plumbing Service
Heeney Furnace Repairs
Heeney Boilers
Heeney Leak Repair

Heeney Pipe Repair
Heeney Plumbing Contractor
Heeney Drain Cleaning
Heeney Heating Service
Heeney Tankless Water Heaters
Tankless water heaters or demand water heaters are more efficient than storage water heaters as they function only when necessary. This is good news as far as energy consumption is concerned since occasions such as a long vacation from home will not require the need for the water heater to function. Not only is this efficient, cost-saving but economically friendly.
Tankless water heaters are the modern type water heaters. Tempting as it is, one ought to do some extensive research before purchasing and maintaining a tankless water heaters. First, one would have to consider the fuel type of which has two choices: an Electric Tankless Heater or a Gas-Fired Tankless Heater. Choosing an electric tankless heater will have to depend primarily on electrical requirements such as voltage, amperage and circuit breaker. One will have to consult with a qualified licensed electrician on this matter. Should one prefer a Gas-fired Tankless heater, one will have to identify the type of gas your gas line produces; this may be natural gas or propane. Aside from identifying the type of gas, one will have to have a good design plan for ventilation for the equipment to function properly. Anyhow, before arriving on a decision on which fuel type to use, one would have considered the costs that each choice would bring.
Services We Provide in Heeney, Colorado
---
If you are looking for a Heeney plumber or heating contractor then please call 970-668-8800 [Summit] | 970-479-1212 [Vail Valley] or complete our online request form.