Are You Looking For a Keystone Plumber Today?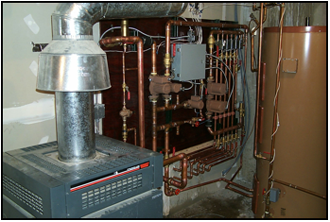 Wieronski Plumbing & Heating Inc. is a customer-focused company that was founded in 1982. We are located in Summit, Colorado and employ highly trained people whose goal is to make our company the best service company in the area. We are fully licensed, and insured, making us the perfect choice for fast, professional service. Our Keystone plumber & heating contractor always perform repairs, replacements or installations to the highest standards. You won't see any used material or inferior products installed in our systems.
Wieronski Plumbing & Heating, Inc. - Keystone Heating Repairs
We take special pride in the Keystone plumbers that we employ and train. In fact you'll notice the difference immediately in the attitude and integrity they bring to your job site and Keystone heating repairs. Our Keystone plumbing and heating company works hard to make your experience with us hassle-free and enjoyable. Should we make a mistake, we will do everything in our power to correct it to your satisfaction.
Keystone Plumbing Company
Wieronski Plumbing & Heating Inc. is dedicated to delivering you the best. We take our customers needs very seriously. You can count on our Keystone plumbing company for upfront pricing so that you can make an informed decision based on the pricing and options provided to you. For most jobs we charge by the job not by the hour. We'll come to your Keystone home or business and give you a written evaluation of the problem and the price so you can approve any work before we begin.
Keystone Plumber
Keystone Heating Repairs
Keystone Heating Contractor
Keystone Plumbing Company

Keystone Plumbing Service
Keystone Furnace Repairs
Keystone Boilers
Keystone Leak Repair

Keystone Pipe Repair
Keystone Plumbing Contractor
Keystone Drain Cleaning
Keystone Heating Service
Keystone Furnace Repairs
There are many reasons why you might need Keystone furnace repairs. The best way to avoid them is to keep checking or inspecting your furnace's components. If you do this regularly, the possibility of damage is lesser than when you do not check and maintain the parts. However, it is always inevitable for it to simply stop working. Be it wear and tear, malfunctions or leaks, it is most important to know how to contact your local service repair company even in the midst of the cold season. It can be a huge challenge to contact one during this time of the year, since many are booked with appointments and other service calls. You might need to call several repair services for your furnace and you have to be persistent to get an appointment.
Services We Provide in Keystone, Colorado
What Keystone Homeowners Are Saying About Us
Wieronski Plumbing & Heating, Inc. is Rated: 3 / 3
based on these 10 happy customer reviews.
---
"Richard is a very competent and a nice young man. Your competitors beat you up and say you're more expensive, but you do great work! I owned a business and know what that means."

- JT Keystone, CO | Rated: 3 / 3
---
" I am extremely pleased with the service your technician provided. He was a competent, thorough, as well as, delightful person. Your company was my 1st choice, and your work is beyond compare. Thanks for all your help."

- KMD Keystone, CO | Rated: 3 / 3
---
"I always feel comfortable when your technician comes out. They do a good job and are always very thorough."

- GY Keystone, CO | Rated: 3 / 3
---
"You have a terrific asset in Richard; he did a wonderful job for us."

- RD Keystone, CO | Rated: 3 / 3
---
"Your technician talked me through everything and did a great job."

- DC Keystone, CO | Rated: 3 / 3
---
"Your service technicians are very thorough, and did just a wonderful job for us."

- CC Keystone, CO | Rated: 3 / 3
---
"Your dispatcher is so professional and polite. It's really nice to get someone like her on the other line when you call with a problem. You make it seem like everything is going to be just fine."

- DB Keystone, CO | Rated: 3 / 3
---
"Richard did an excellent job. Left the job clean and the repair looked very nice."

- SR Keystone, CO | Rated: 3 / 3
---
"Every tech you send is great and you really are lucky to have Jason. He's very efficient and precise. I just would like to say thanks for all your help."

- GY Keystone, CO | Rated: 3 / 3
---
"It's just wonderful to be able to rely on folks like you when I need help."

- CC Keystone, CO | Rated: 3 / 3
---
---
If you are looking for a Keystone plumber or heating contractor then please call 970-668-8800 [Summit] | 970-479-1212 [Vail Valley] or complete our online request form.