Sewage Ejector & Sump Pumps in Summit & Vail Valley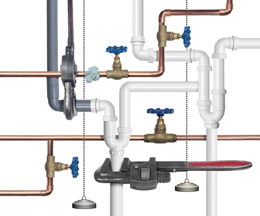 Sump pumps in Vail Valley are designed to drain groundwater which has accumulated in sump pit or the basement of your Colorado home. This type of water pump is most commonly used in properties located in low-lying areas, specifically those located in areas prone to flooding. A sump pump system will protect your basement and your home from flooding, water damage and from moisture that has accumulated over a period of time.
A sewage ejector pump is also another type of submersible pump that is usually located in the drainage pipe and operates in a vertical position. Ejector pumps use powerful jets to break up any solid waste into smaller pieces which can then be flushed down the drainage pipes and into the central sewer system. If you would like more information on how a Vail Valley sump pump or ejector pump can benefit your home, call our Summit County plumber at 970-668-8800.
Our Summit & Vail Valley Sump Pump Services:
Sump Pumps
Sump Pump
Battery Operated Sump Pump
Basement Sump Pump

Sewage Ejector Pumps
Ejector Pump
Submersible Pump
Sewer Plumbing

Water Pumps
Pump Installation
Sump Pump Repair
Sump Pump Replacement
We Provide Sump Pumps to the Following Towns in Colorado
Blue River, CO (80424) | Breckenridge, CO (80424) | Copper Mountain, CO (80443) | Dillon, CO (80435) | Summit, CO (80443) | Heeney, CO (80459) | Keystone, CO (80435) | Montezuma, CO (80435) | Silverthorne, CO (80498) | Avon, CO (81620)
Recent Articles About Sump Pumps
If you are looking for Sump Pumps in the Summit / Vail Valley area then please call 970-668-8800 [Summit] | 970-479-1212 [Vail Valley] or complete our online request form.